Posted on
February 28th, 2008
by Teddy Ballgame
I know it's only spring training, and only the 2nd game at that, but it was disappointing to watch the Buccos tee off on former Rice Ace Joe Savery. The temperature was the same today as yesterday, 53 degrees, but today the sun was shining, and there was no gusting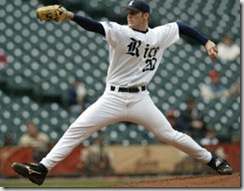 wind. Still my seat behind home plate was empty as I stationed myself down the leftfield line. Florida oranges floating in Blue Moon beer went down too easily. When the young lefty took the hill, I strolled behind the dish to get a better look. I almost had to turn away from what I was seeing. Savery fell behind Bucco hitters, trying to be too fine, then Josh Wilson lined a two run single up the middle, and then Nate McLouth knocked a three run blast over the rightfield wall, turning a 5-1 lead into a 6-5 deficit.
Before this collapse it was all good for the Phils. The Big Guy Ryan Howard almost reached the highway with his monster shot deep to right, still it wasn't as far as his preseason drive over the hitting back drop in center last year. Pirate Adam LaRoche also went yard in the ballgame. Speaking of homers, I'd be remiss if I didn't mention that Michael Jack Schmidt was in the house for the second straight day, coaching firstbase, he'll be a roving instructor this year for Philadelphia. I went to the souvenir stand to purchase a Schmidty tee shirt, but was told there were none for sale. Am I nuts or am I the only one who knows great player's jerseys from all franchises would sell like hotcakes? A couple of years ago I was in Pittsburgh at PNC where I could purchase a Pokey Reese tee shirt, but could not buy a Clemente or Stargell, something wrong with this picture.
After watching baseball the last couple of days, while hearing of more snow in Chicago, I booked a last minute trip to watch some Cactus League baseball. I'd originally booked this trip way back when, cancelled, and then rebooked for about $600 more. Still I'm very much looking forward to hooking up with DonS to watch some pre-Easter baseball out west, but still have five more Florida games to see. Life is good.