Posted on
March 8th, 2007
by Teddy Ballgame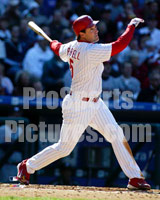 March 7th was the last game of 2007 Spring Training in
the Sunshine State. This game was played between the
two host teams of all the games I've watched thus far,
the Blue Jays went 10 minutes south on US-19 from
Dunedin to Clearwater, where they met the Phillies, at
Bright House Field. Yesterday neither team had a home
game, so I went to Tampa Bay Downs. I bet on Tammi in
the 2nd race and My Philly in the 6th race, ended up
$160 to the good.
Got to Bright House Field about 12:15, saw Dallas
Green putting mustard on his hot dog, while I
purchased a lemonade, heard Robin Roberts was on hand,
but didn't actually see him. It was a balmy 76
degrees, so I was able to watch the game in the shade,
from my favorite spot, behind home plate.
Brett Myers was wild, while Gustavo Chacin was on his
game, which resulted in a 2-0 Toronto lead, could've
been worse if Shane Victorino hadn't made a nice catch
at the wall & gun down a runner at the plate on a
single passed Chase Utley. That lead went away when
Pat Burrell hit a majestic drive to leftfield that
just kept going, with Ryan Howard on base, and then
Wes Helms put the Phillies up with a solo shot.
It stayed 3-2 Philadelphia, until Jason Smith hit one
out in the top of the 8th to tie it at three. In the
bottom of the 10th Brennan King launched a three run,
walkoff homer, to end the game and my Florida
preseason baseball for 2007.
Getting off the elevator, I ran into a cute girl who
sells Phillie souvenirs. I used to see her all the
time when I'd come to Clearwater in years past to
watch the Phillies workout before the preseason games
began. It's always good to see old friends,
especially pretty young blonde friends.
Did a couple of other cool things in Florida today, on
my way to breakfast I saw a couple of dolphins
swimming in brackish water outside my hotel room and
then saw Wild Hogs (highly recommend it, VERY FUNNY)
after baseball.