Posted on
May 14th, 2007
by The Baseball Zealot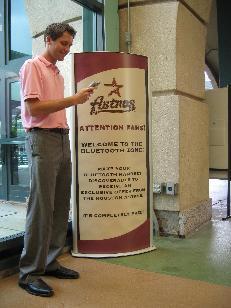 Add Houston Astros to the list of professional sports teams who are becoming more technologically aware and finding practical ways to implement it.
Minute Maid Park will be the first U.S. park with "Bluetooth Zones".
Gearlog.com says:
Visitors to Minute Maid Park (hey, it's like Wrigley Field, but with orange juice) can can download still photos, animations, video and audio clips, ticket offers, interactive applications, and links all for free.
So 'Stros fans, your Bluetooth-enabled phones and devices may come in handy at the park. Bring 'em with.