Posted on
September 25th, 2006
by Teddy Ballgame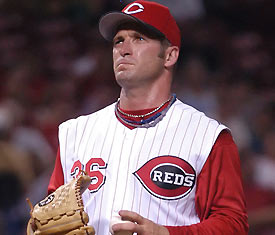 Although Cincinnati Reds starting pitcher Chris Michalak didn't pitch five innings in his Friday night start against the Chicago Cubs he was the winning pitcher. Michalak was leading 4-2 when he was removed, having pitched only 4 1/3 innings, and then the game was called after five innings. Chris is a lefty Golden Domer, born in Joliet, IL. I've included a copy of MLB rule 10.19 (b) below.
10.19 (b)The "must pitch five complete innings" rule in respect to the starting pitcher shall be in effect for all games of six or more innings. In a five-inning game, credit the starting pitcher with a game won if he has pitched at least four complete innings and his team not only is in the lead when he is replaced but remains in the lead the remainder of the game.
No tags for this post.