Posted on
March 31st, 2006
by Teddy Ballgame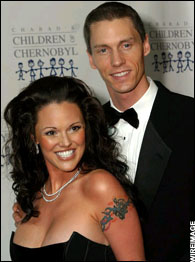 It was hard enough to believe that Nick & Jessica were no longer an item, especially after the breakup of Jennifer & Brad, but now the baseball world is rocking at the news that Anna & Kris are done. Rumors have it that the Oriole clubhouse was visibly upset when the news was announced. An unnamed source was quoted as saying, "I was really looking forward to the team's Christmas party this year".
Update:  Anna Withdraws her request for a divorce -TBZ
No tags for this post.