Posted on
August 24th, 2006
by Teddy Ballgame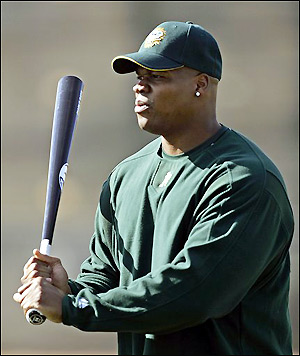 Frank Thomas
Future Hall of Famer & Oakland A's slugger Frank Thomas tied Willie Stargell on the alltime list for homers 475 (also tied Stan Musial in HRs) & RBIs 1540. The 38 year old Georgian ripped his 27th home run of the season, a two run shot, that helped the A's to a 6-0 win over Toronto. Thomas was signed by Oakland in the offseason after the World Champion Chicago White Sox let him go. There were some words exchanged as the Sox said goodbye to the greatest player in team history. Frank is having a very good year for Oakland as their DH, as they stand atop the Western Division of the American League.

Frank Thomas 475 HR, 1540 RBI, 1383 runs, .305 Avg, .425 OBP

Willie Stargell
Willie Stargell was the Captain of the Pittsburgh Pirates. Pops was the oldest player to win MVP when he did it at the age of 39 in 1979, he followed it up with World Series MVP. I can still see his windmill stance as he waited for the pitch to be delivered, can't imagine how a pitcher would feel serving it up to this mountain of a man with the game on the line.
Willie Stargell 475 HR, 1540 RBI, 1195 runs, .282 Avg, .360 OBP
No tags for this post.