Posted on
December 26th, 2006
by Teddy Ballgame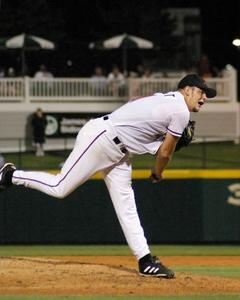 Nick Masset
First off I'm a Sox fan! I know my baseball and believe in GM Kenny Williams' ability to evaluate talent and build a ballclub. He's the guy who put together a championship team a couple of years ago and a 90 win team one last season.
So I'm not going to go into panic mode just because we traded Freddy Garcia, Neal Cotts, Ross Gload, & Brandon McCarthy. The White Sox strength from their championship ballclub was the starting rotation, which consisted of quality arms from one to five. Last year the arms were there, but the results were shakey. Although Garcia had a solid year, his velocity wasn't there. So he was dealt for Gavin Floyd & Gio Gonzalez, I have no problem with that. Then we sent Cotts to the Northside of town in exchange for hardthrowing Dave Aardsma, Neal lost his confidence with the Sox and was resembling departed lefty Damaso Marte, Aardsma throws smoke & looks to be the righthanded compliment of Matt Thornton. Then you add the 6'10" lefty Andrew Sisco stolen from the Royals for Ross Gload. But Kenny wasn't done there, sending Brandon McCarthy to the Rangers for pitching prospects John Danks, Nick Masset, & Jacob Rasner. Williams likened Masset to closer Bobby Jenks in velocity, which isn't a bad thing. Not sure where all these arms are going to fit in, but it's a nice problem to have. Not to mention 22 year old knuckleballer Charlie Haeger appears to be ready. It looks like the 2007 bullpen will be a strength rather than a problem.
I also like that Toby Hall will backup AJ Pierzynski behind the plate. Now all we have to do is get centerfield figured out, we'll have to see what Kenny has up his sleeve.
No tags for this post.