Posted on
June 29th, 2008
by The Baseball Zealot
The EI League is a wood bat league.
Today, I made my way over to Champaign to catch EI League baseball action.  The EI (Eastern Illinois) League is a wood bat league which has mostly college or college-age players.
I made my way to McKinley Field. the home field of Champaign Central High School's baseball team as well as EI's Chambana team.  Chambana was hosting Effingham today for a doubleheader.  This was my first EI Baseball League so I was coming not knowing a whole lot about the players, teams or the league.
Kyle Wilson pitched 6 shutout innings for Effingham in Game 1
Someone did tell me that Effingham was at the bottom of their division.  Boy, you wouldn't know it by the way they played today.  Behind the pitching of Kyle Wilson, they cruised to a 10-0 victory in the first game.  The game was called after seven innings because of a 10-run rule, it was explained to me.
Wilson also managed to strike out 10 Chambana batters.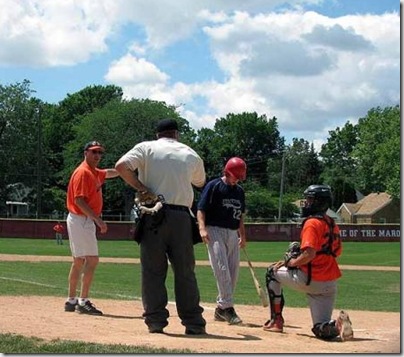 Manager Bruce Barber having a chat with the ump
Frustrations were running high in the Chambana dugout, it would appear.  Manager Bruce Barber came out early in the game to argue about what he felt was a baserunning error by Effingham's pinchrunner.  Towards the end of the game when the score and pretty much everything else was getting out of hand, batter Drake Wallace argued with the home plate ump on a called strike.  Obviously, they didn't see eye to eye and words were exchanged.  Wallace went back to the dugout and still more words were exchanged.  Words I can't really write here.  Let's just say he wanted the ump to kiss him… but not on mouth.
Well, needless to say, he got ejected.  Then out comes Manager Bruce Barber with a song and dance about the ump not hearing him correctly (something about rabbit-ears) and it wasn't long before Barber gets the thumb too.
A guy I was watching the game with said he thought Barber was just trying get the rest of team pumped up since they were down 8-0 at that point.
Chambana Game 2 starter Matt Miller
Game Two's starter for Chambana was Matt Miller.  Miller was practically a walk-on for today's game, according to his father.  Interestingly, the last league Miller pitched for was the Chicago Suburban Baseball League.  The CSBL is a popular league for Illini players (this year, we have two playing there).
Unfortunately, for Chambana, Effingham played not like a last place team but a team on the rise.  They defeated Chambana 13-3 with Ryan Bradley getting the win.
More photos in the photo gallery