Posted on
August 23rd, 2006
by Teddy Ballgame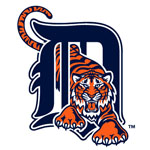 I had my tickets to all four games, my airline tickets on SWA, and hotel accomodations at the Hotel Milner (one block from the ballpark). I even had my trip to see Claliglia at the Toy Chest all mapped out in my mind. But the best made plans are subject to change and change they did, cancelled might be a better description of what happened. Three weeks ago Oma fell, broke her hip, and is recovering from surgery. This past Sunday a man with a black cape & sickle was following her around, so I decided to cancel my Detroit trip to support the Good Guys. I'm happy to report we were able to chase away the grim reaper from Oma. Maybe he's found a more vulnerable target in my White Sox in Detroit.
In game #1 of this important four game series Jose Contreras & the Southsiders were beaten 7-1, Jermaine Dye's homer opened the scoring, but that's all we got. Justin Verlander's once 100 MPH fastball only reaches the mid 90s now, but that was all he needed. How could I expect Contreras to fare better against the Tigers than he did against the Royals? KC bombed Contreras in his last outing (I game I had to leave early). It was no gamble in the 2nd game as Kenny Rogers dominated Pale Hose hitters 4-0 as Mark Buehrle took the loss. Ozzie Guillen got his money's worth after being ejected for arguing balls & strikes when Buehrle walked in a run on a low pitch that Rogers got the benefit of a called strike three on Paul Konerko in the top of the inning.
Two down, two to go. Clearly Detroit has the Eye of the Tiger, something the White Sox need to get. It should be noted that Aaron Rowand might be out for the season after running into Phillies secondbaseman Chase Utley, earlier in the season Rowand ran nose first into Philadelphia's centerfield wall. I still like the Sox acquiring Jim Thome, but there's no questioning Aaron's desire to win. I was a little concerned about my safety in Detroit and staying at the Hotel Milner, but I wasn't worried about my heroes, maybe I should have been.
At this point it looks like the Tigers have answered the White Sox challenge. The Wild Card might be the best way for the defending World Series Chamions to make the playoffs. Currently Chicago holds a nose hair lead over the Twins. Minnesota brings its act to the Cell this weekend, but first we have to show there was at least some reason for making the trip to Detroit. At least the White Sox can't do as bad as the Red Sox who recently dropped a five game series against the Yankees.
No tags for this post.