Posted on
December 7th, 2006
by Teddy Ballgame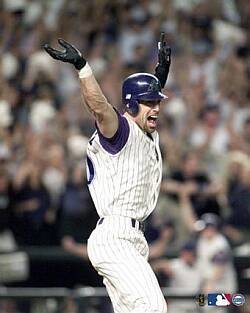 Luis Gonzalez
So far the Dodgers have lost Greg Maddux, JD Drew, & Julio Lugo, and have added Jason Schmidt, Luis Gonzalez, & Mike Lieberthal, in addition to re-signing Takashi Saito. So far the Dodgers are WAY ahead!!! The trade off in paying Schmidt rather than Drew the BIG money is HUGE!
Luis Gonzalez has played in 145+ games in eight of the last nine big league seasons, and smart money says the 39 year old lefthanded hitting outfielder will play in more games than Drew in 2007. While Luis isn't going to steal bases or patrol the outfield as well as JD, he did rip 52 doubles and score 93 times in 2006 for the Arizona Diamondbacks. Gonzo's best season came in 2001 when he launched 57 long balls, with 142 RBIs, and 128 runs scored. Granted his best days are behind him, but he'll be out there everyday this upcoming season, leading LA to a 1st place NL West Crown.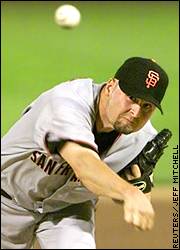 Jason Schmidt
LA got a BIG pitcher for BIG money, and he will be well worth it in 2007. Schmidt will be the #1 of a solid rotation, joining Brad Penny, Derek Lowe, Chad Billingsley, & Randy Wolf. Heck the Dodgers even have Hong-Chih Kuo & Brett Tomko waiting in the wings, should anyone falter. Although Jason's best year was 2003 when he was 17-5 with a 2.34 ERA, he still has plenty left in the tank.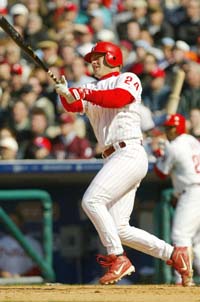 Mike Lieberthal
The former Phillies catcher has agreed to play a backup role for his hometown LA Dodgers. Glendale's Lieberthal made his debut at Dodger Stadium June 30, 1994. Mike is a former Gold Glove Award winner and will have alot to offer the young Russell Martin.
There go the Dodgers signing another solid veteran, who still has alot to offer.
No tags for this post.