Posted on
July 5th, 2005
by The Baseball Zealot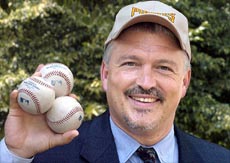 This Pirate fan never caught a souvenir ball all his life.  Not a foul ball nor a homer.
Until June 22, that is.
Within 15 minutes, he caught three foul balls in a game against the Nats.  One off Jason Bay and two off Jack Wilson. 
Read the story at the Pittburgh Post-Gazette.
No tags for this post.