Posted on
December 2nd, 2006
by Teddy Ballgame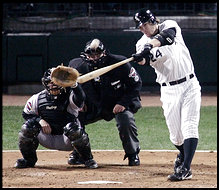 Joe Crede
Here's the deal that's on the table according to the Chicago Tribune article. The White Sox would send Joe Crede & Freddy Garcia to the Halos in exchange for Ervin Santana & Chone Figgins. This is not an old fashioned trade, but rather a trade based on salary. Joe Crede will soon be a free agent and the Sox don't want to lose him, but there is more than just money.
The Angels could really use Crede's bat & glove at 3B, they just signed Gary Matthews, Jr. to play CF, so Figgins' isn't as important as he once was. Also Bartolo Colon won't be ready for the start of the 2007 season as he's recovering from a partially torn rotator cuff. LAA would love to have a big time pitcher in Garcia at the front of their rotation.
Back in the Windy City Chone Figgins would fit right into the lineup at leadoff & CF, with just signed leftfielder Scott Podsednik dropping to 9th. Josh Fields looked like he was ready during a September callup to step into the everyday lineup at thirdbase. The 23 year old right hander Santana would be a welcome member of the Sox rotation, the staff is loaded with veterans, and some vitality might be just what is needed.
Any way you look at it, it's interesting to check out the Hot Stove League to see what's cooking. The Winter Meetings start up soon, which means spring time is just around the corner. Looks can sometimes be deceiving, as can the snow & ice on the ground, as I await the crack of the bat.
No tags for this post.