Posted on
April 6th, 2006
by Teddy Ballgame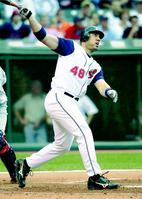 Went to the Cell yesterday to get a replica World Series Trophy and see the White Sox take the rubber match of their opening series, I got neither. 20,000 trophies were given out and even though we got in line when the gates opened by the time we walked into the ballpark they were all gone. I know I shouldn't have stopped at Grandstand on 35th to pickup a Mark Buehrle tee shirt.
Jose Contreras was a little wild in the first inning and the Indians took a 2-0 lead. Even though the thermometer read in the 50s it was cold out there, which might have explained Jose's lack of control. The Good Guys came back to take a 3-2 lead, before Boone Logan was greated by Travis Hafner with a game tying bomb off the kid from rookie ball, welcome to the Show! The Sox went on to lose 4-3 in extras.
No tags for this post.