Posted on
May 12th, 2006
by Teddy Ballgame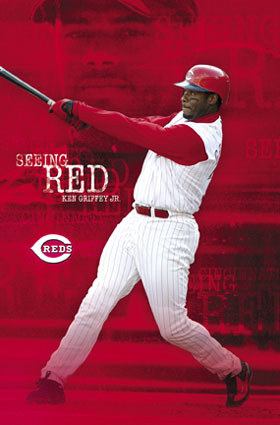 Ken Griffey couldn't believe it himself.  He hadn't played in about a month, since he tweaked something in his knee in centerfield at Wrigley Field.  That was the same day I was sitting in the Bleachers and there was a jerk out there screaming, "Griffey, YOU SUCK!!!"  ten times per inning till he left the game with an injury.  Well Griffey certainly didn't suck 5/11 as he ripped a three run game winning home run into the rightfield stands off Nats reliever Joey Eischen. Washington Manager Frank Robinson tried everything to avoid the inevitable, but it wasn't to be as Cincinnati clawed back to take the game 5-4 in 11.
Pinch hitter Rey Olmedo led off the bottom of the 11th with a single, went to 3rd on Ryan Freel's single to left, but Freel was thrown out at 2nd when Ryan Church fired a strike to 2nd (greed is never good, especially when trailing by three in the bottom of the extras).  Felipe Lopez plated Olmedo with a single, Edwin Encarnacion reached, setting the stage for Junior.  After the ball cleared the RF wall the Cincinnati broadcaster exclaimed, "Griffey is the King of the Queen City tonite!!!"
No tags for this post.