Posted on
September 11th, 2006
by Teddy Ballgame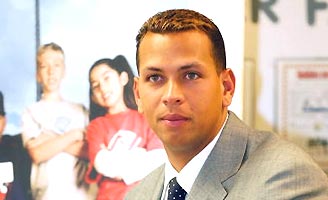 The last night we were there we got the opportunity to watch Randy Johnson throw a no-hitter for six innings against the Royals. He had a similar outing against the White Sox earlier in the year that I witnessed at the Cell where he had a no-hitter through six innings. In that game Johnson didn't survive the 7th, getting nobody out. Tadahito Iguchi got a leadoff single, followed by a Jim Thome walk, followed by a Paul Konerko double, followed by a Jermaine Dye double, and Randy was relieved by Ron Villone, the Yankees held on to win that one 7-6. So I really didn't think the Big Unit was going to throw a no-no. Still I asked my friend Taka if he'd ever witnessed a no-hitter, the closest I ever came was seeing Alex Fernandez one hit the Cubs at Wrigley on a very cold day, interestingly NickyV was also at that game (although we didn't go there together). Taka said he saw a no-hitter pitched in Tokyo on May 18, 1999, but I can't remember the pitcher's name he mentioned. Taka went on to say, "Randy Johnson threw a perfect game on May 18, 2004 against the Atlanta Braves, when Randy was with Arizona". Later that night we're watching SportsCenter and the talking head comes on to confirm Taka's knowldge (Anibal Sanchez threw a no-hitter on Wednesday & Unit's was the last one before that). The Yomiuri Giants are Taka's team, he probably scheduled this trip to KC to see former Yomiuri outfielder, and current Yankee, Hideki Matsui play, not knowing Godzilla would be out with an injury. Taka's knowledge of MLB is phenominal, but here's a story about the most amazing thing about him. Thirst was setting in and NickyV & I were in serious need of the Bud Man. We looked all over, but a Bud Man couldn't be found. All of a sudden we see Taka coming down the stairs with the Bud Man in tow, they wouldn't allow him to purchase three beers, so he brought the Bud Man to us, AMAZING!
As I said in my original piece about my KC trip we met Taka at the Negro Baseball Leagues Museum. There is a fullsize playing field at the museum with Martin Dihigo batting and these great Negro Leagues stars in the field – C Josh Gibson, P Satchel Paige, 1B Buck Leonard, 2B Pop Lloyd 2B, 3B Ray Dandridge, SS Judy Johnson, LF Cool Papa Bell, CF Oscar Charleston, and RF Leon Day. There was a guy from the museum giving a private tour, so NickyV & myself tagged along. Some of the stories were really great, especially the one about how fast Cool Papa Bell was. Cool Papa Bell got to his room and noticed there was a short in the light switch in his room, so Satchel Paige comes to the room, Bell bets Paige he can turn off the light, jump into bed, & pull the covers up, before the room gets dark. Now Satchel knows Cool Papa Bell is fast, but he ain't that fast (although he once stole 175 bases in one season), he accepts the bet, and of course with the aid of the faulty light switch Bell does it. Satchel Paige told the story of how fast Bell was over and over again. There was chicken wire you'd have to look through behind the plate, it was there to symbolize what was used to keep black and white fans apart. Harlem Globetrotter great Goose Tatum played for the Indianapolis Clowns, there was a running video that showed his long arms, the amazing things he could do with a baseball, and his clowning ability. Big Rube Foster was the man who first organized a Negro Baseball League. There were alot of black owned business that sprang up as a result of segregation and Negro League Baseball, they died when black players were allowed to play in the Major Leagues. Baseball Commissioner Judge Mountain Landis said, there would not be blacks in baseball while he was alive, when he died he was replaced by Happy Chandler, who despite being a Southerner, opened the door. Jackie Robinson was brought in by Branch Rickey to integrate Major League Baseball in 1947. There was something about blacks dying for this country in WWII and then being kept out of the majors that didn't seem right. Robinson was a college educated man, who'd competed in football & track at UCLA. Jackie promised Rickey he wouldn't fight back on the baseball field for three years. Robinson won NL Rookie of the Year for the Brooklyn Dodgers, putting up with high spikes, players spitting on him, and every insult you could imagine coming his way. After two years Rickey took the gloves off Jackie and allowed him to defend himself. It took a special man to break the color barrier. I think it was Hank Thompson, who first played for the St. Louis Browns. When he first got to the team he didn't even have his own bat, he borrowed one from a teammate, hit a home run, and found the bat broken by a teammate upon his return to the dugout. It is said that Josh Gibson hit more than 900 home runs in his career. In 1948 at the urging of Manager Lou Boureau, Satchel Paige, at the conservative age of 42, was signed by Bill Veeck & the Cleveland Indians, who were in desperate need of pitching, 6-1 2.48 ERA is what Satch game them, plus a World Champion team. In 1965 Paige pitched a three inning exhibitian against the Boston Red Sox, allowing only one hit to Carl Yastrzemski. And just maybe the fact that the Red Sox were the last team to integrate by signing Pumpsie Green in 1959 might have had something to do with their not winning as opposed to the Curse of the Bambino. You have to wonder how much better off major league baseball would have been had they allowed these great negro league ballplayers in. Many of the former stars of the Negro Leagues have been inducted into the Baseball Hall of Fame. Still Buck O'Neil at the age of 94 is on the outside looking in. Buck has been key to keeping the Negro Leagues alive, besides having a solid career. Another former Negro League star that deserves induction into the Baseball Hall of Fame is the first black player to sign with the White Sox, Minnie Minoso. The Cuban born Minoso can still be seen at the Cell promoting the great game of baseball.
One more story and then I'll let you go, provided you're still with me now. On the way out of Kauffman Stadium for the last time, we hopped on the elevator, the three of us (NickyV, Taka, & myself). The elevator was going down, rather than up, but we decided to go along for the ride. Getting on, to our surprise, was Alex Rodriguez and another Yankee player I didn't recognize. One of the other people on the elevator told ARod to hang in there, he turned and said, "What do you mean hang in there? We won 8-1". The other Yankee quickly corrected ARod, saying, "It was 8-3. They hit a home run in the 9th". Then Taka told ARod that he'd seen him play in Tokyo and reached out to touch his bulging bicept, to which Alex replied, "No touch". I told Rodriguez I'd seen him play for the Appleton Foxes, he said, "Those were some happy times". NickyV told me later he almost felt sorry for ARod. And I must say, something's changed from the time he was an 18 year old kid in A Ball signing 30 or more autographs per night. But I guess we've all changed.
No tags for this post.