Posted on
December 7th, 2006
by Teddy Ballgame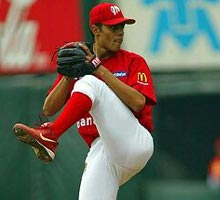 Joakim Soria
NickyV & I made our annual baseball trip to KC this past Labor Day and beyond. While Runelvys Hernandez didn't set the world on fire for the Royals, he did look good. Now it's reported KC has released Hernandez to make room on its 40 man roster for Joakim Soria. The Royals picked the 6'2″ 22 year old righthander from the San Diego Padres in the Rule Five Draft. While the Rule Five Draft list wasn't as deep in year's past, Soria is a gem. So far in the Mexican Winter League Joakim has started 10 games, is 8-0, with 64 strikeouts in 62′ innings, and a sparkling 2.02 ERA.
We also had a close encounter with Runelvys' wife and newborn in the elevator at Kauffman Stadium. We commented on how well behaved the baby was, Hernandez' wife said proudly, "Her Daddy was the starting pitcher for the Royals tonite".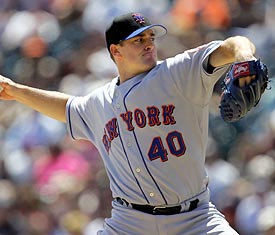 Brian Bannister
In an old fashioned trade, the Royals sent hard throwing, wild, righthanded reliever Ambiorix Burgos to the NY Mets in exchange for righthanded rookie starter Brian Bannister. Bannister had a 4.26 ERA for New York before a hamstring shut him down. Brian is the son of former major league starter Floyd Bannister, and should earn a spot in KC's rotation in 2007.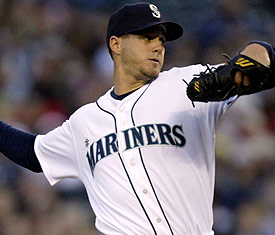 Gil Meche
The Royals shelled out BIG money to get a BIG pitcher, but then they just signed Gil Meche to a five year $55 million dollar deal. Like I said, just because you pay BIG money doesn't make a pitcher BIG. But the only BIG pitcher was Runelvys, who was only BIG because of his girth, and was released. Still it's sad that Meche will be the #1 starter on anybody's staff. Glad it ain't my money.
No tags for this post.