Posted on
December 7th, 2006
by Teddy Ballgame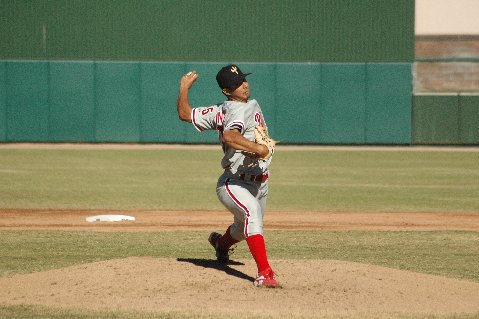 Gio Gonzalez
When I said I'd like to see the White Sox reacquire a guy they traded to Philly in the Aaron Rowand Deal, I was talking about Aaron Rowand, not Giovanny Gonzalez. I have got to be clearer the next time I talk with Kenny Williams. The Sox took their first step to revamp their starting rotation by trading Freddy Garcia for TWO pitchers, Gio Gonzalez AND Gavin Floyd. Both are young, and can only be expected to get older. Both are former first round draft choices, Floyd is a 23 year old righty, and Gonzalez a 21 year old lefty. While Gavin has struggled, Gio had a solid AFL and appears ready. But it is another young talended righthander who will attempt to fill the shoes of Freddy Garcia, and that is Brandon McCarthy. Garcia leaves some awfully big shoes to fill.
We'll have to see what happens next, but I wouldn't be surprised if Mark Buehrle wasn't shipped off soon. The guy I'd like to see go is Javier Vazquez. While I did say there were three reasons why the Chisox didn't repeat in 2006, the rotation, the bullpen, & CF, two years ago the rotation was the strong point of the Champions. That said, it is smart to allocate your funds wisely in today's game and the Sox didn't want to find themselves strapped with alot of overpriced, underperforming starting pitchers.
Next up, the Southsiders have to address their bullpen & CF needs.
No tags for this post.