Posted on
February 10th, 2006
by The Baseball Zealot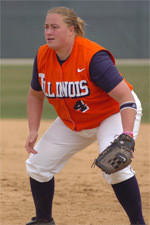 It may be too cold to play baseball but the University of Illinois softball season has just started.  The team is down in Waco, TX for the Getterman Classic.  The event is hosted by the Baylor Bears.
Only there was no game today.  Today's season opener got rained out.
Play hopefully begins tomorrow, weather permitting.  Good luck, women!
Update:  For the weekend, the UI women split.  They lost to Tulsa twice but defeated Baylor and Wichita State.  The 12-6 win against Baylor was worth savoring since Baylor was #10 in the nation.
No tags for this post.