Posted on
May 13th, 2006
by The Baseball Zealot
The UI Softball team held #1 seed Northwestern to 4 runs but that wasn't enough.  They were eliminated from the Big 10 tournament on the Wildcats' home turf by the score of 4-1. 
The Illini finishes the season at 24-31.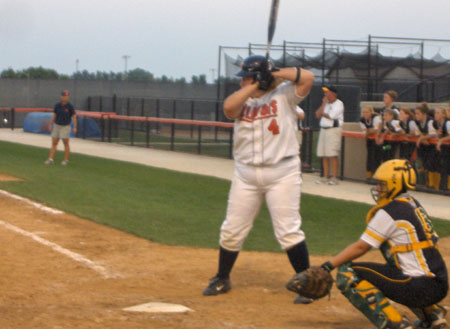 Jenna Hall… one-woman wrecking crew
That said, the end of Illini's softball season would not be complete without paying tribute to Jenna Hall who will be graduating.  Hall was one heckuva softballer.  According to Coach Terri Sullivan, "Jenna is the best player to ever put on an Illinois uniform."  Hall has been named as one of the 25 finalists for USA Softball Player of the Year, a first in Illini history.  Her 13 homeruns this year are a single season record for the Illini.  Her 59 walks broke the single season record set by… Jenna Hall.  She holds numerous fielding records for her work at first base.  I could go on and on.
I'm glad I had the pleasure to see her jack one out. 
No tags for this post.