Posted on
April 21st, 2006
by The Baseball Zealot
Anyone in Champaign-Urbana this weekend has a good chance to catch some good Big 10 baseball as Iowa comes to town to face the Illini.  Here's the schedule and rundown on the teams.
I did a double take when I saw this:
 April 21 • 6:05 pm
Matt Whitmore (RHP) vs. Luke O'Loughlin (RHP)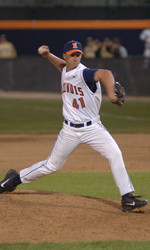 Matt Whitmore
Whitmore?  Starting pitcher?  Yes, it's true. Matt Whitmore, previous Big 10 pitcher of the Week for his bullpen work is making his first college career start tonight.  I'm following the game via GameTracker and so far he's doing fine.  He's allowed 2 hits and no runs through frames.
Speaking of Whitmore, he has been added to the watch list for the Stopper of the Year Award.  The award is presented by the National Collegiate Baseball Writers Association.  Currently, Matt has 6 saves with a 1.33 ERA.
No tags for this post.