Posted on
May 13th, 2007
by The Baseball Zealot
What a lovely day it was for a ballgame! Of course it would have been nicer had we not missed the first few innings because I forgot my Go Illini card at home.
Reliever Brian Long
By the time we got there Brian Long had things well in hand. He was lights out in relief allowing just one hit over five innings. It was his first win of the season.
But what we missed in the first was a two-out rally by the heart of the order that scored three Illini runs. That rally included a Shawn Roof HBP rbi and a two run base knock by Ryan Hastings.
Indiana never led after that despite scoring two in the the third. Illinois managed to put four more runs on the board including a 3 run fifth inning started by a Ryan Snowden double.
Lars Davis was 2 for 4 with 2 runs and a rbi. Omar Kadir came in to pitch a perfect ninth. Final score 7-2.
SAFE!
With the ball coming in and Joe Bonadonna kicking up dirt, this is pretty awesome shot. I can't take credit for it though. My 10-year son who is a budding photographer took it. I gave him the camera for a while so a lot of the shots (mostly in the middle) you will see in this week's edition of The Baseball Zealot Photo Gallery are his. Of course, of all the photos taken between us, he would be the one to take the money shot.
By the way, nice hustle by Bonadonna. The ball trickled out to the outfield due an errant throw but it didn't go far. Bonadonna took advantage of it and was safe at third.
A little Fun after the Win
Today kids in the stadium took part in an annual tradition. They got to play a little wiffleball with the players. It's one of the coolest promotions they do, I think and the kids (an the players, too I bet) have a blast. My kids did it. My little girl took her swing ran the bases then decided that secondbase was the place for her and set herself up right there to the right of the base.
Thanks to the program for doing this.
I introduce Shawn Roof to the Missus
Shortstop Shawn Roof is always kind enough to come over and say hi when he has time. Today he came over after the game so I introduced him to my wife.
He immediately asked about my son and asked if he was ok. We assured him he was ok.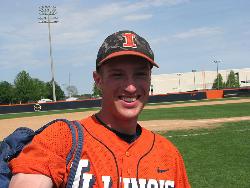 I asked him about the team's chances for the tournament. He told me that since Michigan State had swept the Wildcats, they certainly aren't out of it yet. I asked about his brother remembering that he has a brother who is a Spartan baseball player. His name his Eric and plays 3B and catcher (someone to watch next weekend folks).
I wished him good luck for the coming weekend. My wife said "He is such a polite man. I'm touched he asked about our son"
I'm touched he reads my blog. ;-)