Posted on
March 23rd, 2007
by The Baseball Zealot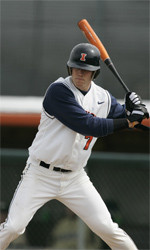 University of Illinois catcher Lars Davis is on a tear and the Illini are on a streak.
Thursday, Davis went 4 for 5 (his second 4 hit game in a row) with a home run and 3 rbis. The Illini won 5-2 against Dartmouth. That makes 4 in row and gives them a 6-8 record. Not bad considering they were 2-8 before the streak.
You would think after two 4 hit games, Davis would have a monopoly on the batting average on the team. Not quite. Davis is second on the team with a .458 average. Kyle Hudson is hitting a cool even .500.
Davis leads the team with 3 homers.
But the best news is that next Tuesday, the Illini are playing at home at Illinois Field. I know I'll be there.
No tags for this post.