Posted on
March 29th, 2007
by The Baseball Zealot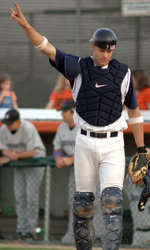 Ok, good news first. Canuck catcher Lars Davis took Big Ten Player of the Week last week. How good was he? Try 12 for 14 on for size. How about three homers and 5 rbis? Add to that that he threw out 2 baserunners and even stole a base of his own.
By the end of the week, he was leading the Big Ten with a .492 batting average.
Davis' hitting spree during the spring break trip came at an opportune time. Before the trip, the Illini had a 2-7 record. With Davis' help, the Illini went on an offensive tear for the week scoring 67 runs in six games and winning 5 and only losing one. Their record after the week (I know, you can do the math), 7-8.
Tuesday was Illinois' home opener against Indiana State. To say nothing went right would be wrong. After a rough first inning, Aaron Martin gave us a very solid start.
Unfortunately, the offense was not there at all. Indiana State shut out the team 4-0.
Looking for high points, I can tell you that Lars Davis extended his hit streak to nine games and Ryan Snowden went 3 for 4.
The Illini travel to Purdue for a 4-game set this weekend.
Trivia question: Who was the last Canadian-born Illinois catcher before Davis?
No tags for this post.