Posted on
May 20th, 2008
by The Baseball Zealot
Yesterday, the Big Ten announced their individual award winners. With the Illini's offense, it was no surprise that they were heavily represented with five honorees.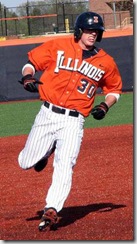 Kyle Hudson OF First Team All-Big Ten
Leading the pack is Kyle Hudson who was named First Team All Big Ten. Hud was second in the conference in hitting with a .411 batting average and second with 39 stolen bases. Hudson also scored 60 runs (4th in conference). All this was done in spite of ankle injury which sidelined him for four starts.
Hudson's selection to the First Team was unanimous.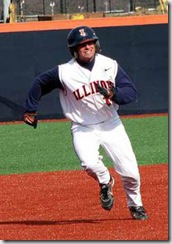 Joe Bonadonna 2B Second Team All-Big Ten
Joe Bonadonna hustles, there's no doubt about it. His 36 stolen bases and 46 runs are eclipsed only by Hudson on the Illini. Bonadonna hit .375 for the year.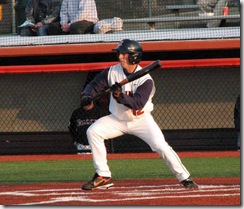 Brandon Wikoff SS Second Team All-Big Ten
Like Bonadonna, Brandon Wikoff is only 5'8″ but he ended the season fifth in rbis in the conference with 59. Wikoff batted .381 in the number 3 spot and was very clutch down the stretch for the Illini.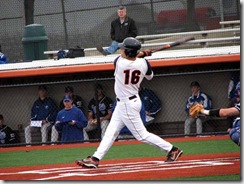 Daniel Webb DH Second Team All-Big Ten
Daniel Webb was batting .400+ for a good part of the season before his average ended up at .387 (seventh in the conference). Although primarily a DH, Webb filled in at right field when the need arose. He led the team in homeruns (6) and was second in rbis (45).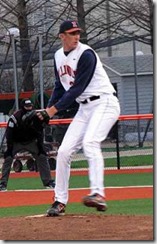 Kevin Manson SP Third Team All-Big Ten
6'7″ Kevin Manson led the team in wins with seven which was tied for third in the Big Ten. Manson was the reliable Friday starter who led the team in wins, strikeouts and innings pitched. Manson had good control too allowing only 19 walks in 65 2/3 innings.
In addition, Kyle Hudson was awarded the Big Ten Sportsmanship Award for Illinois.
Congratulations to Kyle, Joe, Brandon, Daniel and Kevin on a job well done!!