Posted on
May 31st, 2007
by The Baseball Zealot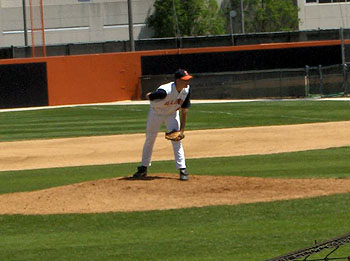 Blomquist pitching for the Illini in 2006
Former University of Illinois hurler Brian Blomquist got his chance to pitch on the professional level last Saturday night. Blomquist, who had just signed with the Southern Illinois Miners of the Frontier League didn't have wait long to show what he's made of. He got the call to start against Evansville
All things considered, Blomquist didn't do badly though he did get the loss. He allowed three runs on 5 1/3 innings with 4 strikeouts.
Blomquist pitched for the Illini between 2002-2006. In 2005, he had a 10-3 record with a 3.53 ERA.
Good luck to Brian this season!
Hmm…put this in where are they now category: One of Blomquist's teammates is none other than Danny Almonte.
No tags for this post.