Posted on
April 17th, 2008
by The Baseball Zealot
Former Illini SS Shawn Roof is making the most of his second year in the minors. Currently, Roof is assigned to the Lakeland Flying Tigers, Detroit's A team.
Right now, Roof is leading the club with a .409 batting average. Hopefully, management is now starting to take notice. The Lakeland Flying Tigers Blog, a team fan blog certainly has.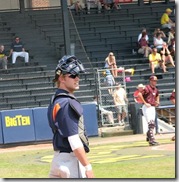 Shawn shot me an email and mentioned that Lars Davis hit a couple homers over the weekend. The former Illini catcher and Big Ten player of the Year is stationed with the Rockies class A affiliate, the Asheville Tourists.
Sure enough, Davis homered in consecutive days on April 12-13.
Good luck to both!!
No tags for this post.