Posted on
April 1st, 2006
by The Baseball Zealot
In front of a record crowd Friday night, the Illini eked out a win against rival Purdue, 9-7.  I was there and the wind, blowing to right-center, was so strong, I had a hard time holding on to my hat.
That same wind played havoc with fly balls, taking two Purdue hits deep for homers. 
This was supposed to be a pitchers' duel.  Illinois' ace starter Brian Blomquist going.  As for Purdue, they had Jay Buente going.  Buente had the 3rd best ERA (1.70) in the Big 10 before last night.
Well throw all that out the window.  The Illini tagged Buente for 9 earned runs in 2 1/3 innings before he was taken out.  His reliever, Andrew Groves, pitched a near perfect 5 2/3 innings allowing only two hits.
As for Blomquist, he lasted for 5 frames but he allowed 6 runs.  Fortunately for him, he was pitching in the "comfort zone" of a 2-4 run lead.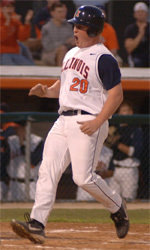 Dave Schultz
The big guns for the Illini were Dave Shultz who went 3 for 4 with 2 runs and 3 rbis and Trevor Huisinga who had 2 hits and 2 rbis. 
On a personal level, it was good to see Illini baseball again at Illinois Field especially in front of a record setting field.    An added treat was running into my nephew who is a second semester freshmen at the ol' U.  My son and I picked up all the freebie giveaways on our way out (a poster, magnet, Illini baseball cards).  I shelled out some bucks for the Illini baseball media guide which is always useful for tibits of info on the players.
Yesterday's win makes it eight in row for the good guys.  They take on Purdue today in a doubleheader and one more game Sunday.
Update:  The Illini ended up splitting the 4-game series with Purdue.  Jake Toohey was tough in the first game, winning 3-2 on Saturday but the Boilermakers made hay off the Illini bullpen in the second game winning 10-4.
On Sunday, Mike Rohde got 3 hits but the Illini went back to their old ways by not taking advantage of opportunities, losing 9-4 
No tags for this post.