Posted on
May 9th, 2006
by The Baseball Zealot
Michigan's power was too much for the Illini in their Senior Day game.  The Wolverines blasted 4 shots, one a grand slam.  Two of those homers belonged to Nate Recknagel.  Michigan managed a 9-6 win over the Illini for their last home game.
That said, it was a fun, interesting game to watch.  The Illini chased Michigan starting pitcher Hess in the 5th after he gave up 9 hits and 4 runs.  The Illini were pretty much in it till the end, forcing Michigan to go to reliever Jenzen in the 9th after a Lars Davis homer and a Ryan Hastings single to put the tying run on-deck.  Jenzen got the last two outs for the save.
Shawn Roof and Kyle Hudson both got 3 hits.  As mentioned, Lars Davis hit a dinger, his fourth of the year.
After the game, in what has become a tradition at the last home game, kids spilled onto the field and played wiffleball with the Illini players.  It's a pretty cool sight actually.  It must have been at least 50 boys and girls and they all got their chance to bat and run the bases.  And somehow, the Illini defense, for just this one afternoon, didn't get their throws to first base in time and all the kids were safe.  Every kid got to run all the bases and score.  Pretty awesome.
Some photos from the game and afterwards: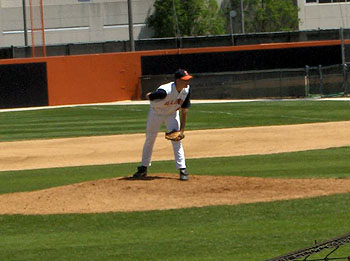 Starter Brian Blomquist looks in to Lars Davis for the pitch call.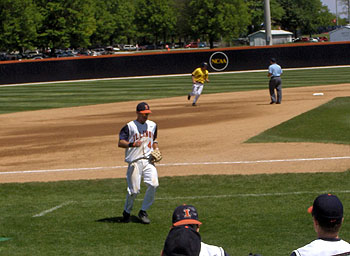 SS Shawn Roof hustling off the field.  After the game, it was my privilege to shake Roof's hand.  I told him that I enjoyed watching him play this season.  Roof is son of former MLB player Gene Roof.  Anyone who has seen Shawn play knows that no one hustles more and no one is more in the game than he is.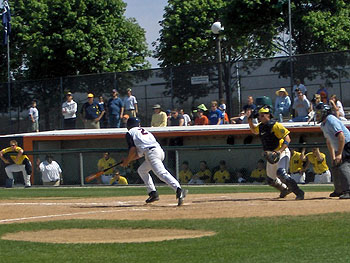 DH Dom Altobelli slapping the ball.  BTW, the visitors section is in the background.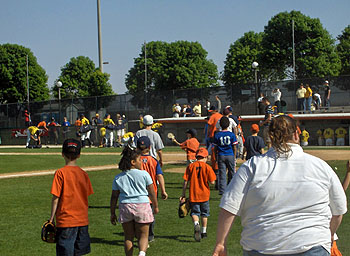 The kids filing in after the game for a little wiffleball with the players.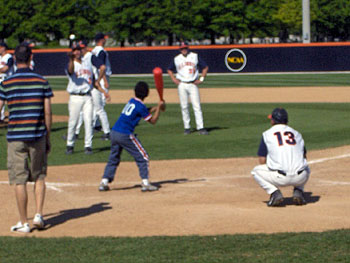 Taking a pitch.  That's starting 3B Joe Bonadonna behind the plate.
No tags for this post.