Posted on
June 7th, 2008
by The Baseball Zealot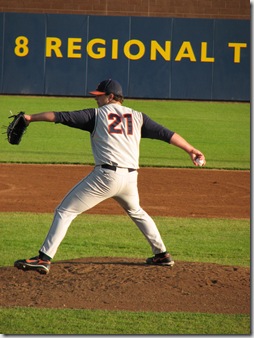 Shaw facing off against Michigan at the 2008 Big Ten Tournament
The scouts must have been paying attention during the Illinois-Michigan game at the Big Ten Tournament because Illinois pitcher Scott Shaw was chosen #404th overall in Friday's MLB's first-year player draft. Though Shaw lost that Michigan game, he pitched a heck of game.
Shaw was chosen by the New York Mets with the pick and was the second Illini picked in this year's draft. CF Kyle Hudson was picked by the Baltimore Orioles in the 4th round during the first day of the day.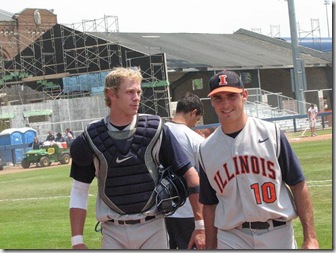 Roark (right) with one of 2007's Illini draftees, Lars Davis after their only 2007 Big Ten Tournament win
Also of Illini note, former pitcher Tanner Roark was selected by Texas. Roark was set to be Illinois' top starter this year but was dropped from the team due to academic ineligibility. He was picked #753 overall.
Congrats to both of them.
Big Ten Hardball has the full list of all Big Ten players who were drafted from Day 1 and Day 2.