Posted on
May 21st, 2006
by The Baseball Zealot
With the pressure on, the Illini delivered.  Down to the last game, needing to win against Michigan State if they wanted to continue on to the Big Ten Tournament, it seemed like everything went right.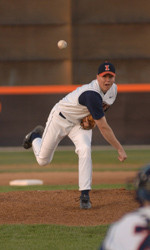 Brian Blomquist found his groove
  The same could be said for starting pitcher Brian Blomquist.  Bloomer, who was unstoppable at the top of the season then went through a stretch of mediocrity, found his groove and was again the pitcher everyone thought he could be.  Through 8 innings, he allowed 3 hits and one walk and no runs. 
At the same time, Dave Schultz did what he does best and more.  He knocked 2 dingers with 5 rbis.  Ryan Hastings was 4 for 5 with 3 rbis. 
Final score:  10-2
I listened to the post-game interview with Coach Dan Hartleb.  I smiled when he talked about Shawn Roof's playing above his talent and what he does by getting the players going by constantly talking and rooting (I'm paraphrasing here). 
You see, when I go to home games at Illinois Field, I always stand at the left field fence near the home dugout.  I get a pretty good view of the players as they go out to the field and when they come back in. 
Hartleb's description of Roof is spot on.  If, for example, the opposition gets a few runs and the Illini finally get the three outs and are on their way into their dugout, Roof is always talking.  And it sounds something like this:
"OKGUYSLETSGOGETTHEMLETSGETFOURRUNSHEREWECANDOIT
LETSNOTGETDOWNHEREWECANDOITLETSGOILLINOIS!"
…or something like that.  It sounds that loud and that fast.  That's what I like about Shawn Roof.  That and when he goes out to his position at shortstop at the beginning of the inning, he does it like he's running the 50-yard dash. 
Anyway, congrats Illinois on winning probably the most important game so far this year.  Good luck in the tourney!
No tags for this post.