Posted on
June 6th, 2007
by The Baseball Zealot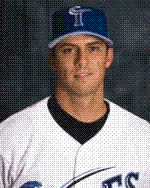 Former University of Illinois infielder Chris Basak, at age 28, got the call to the bigs. He is now on the New York Yankees' active roster.
He did well in Spring Training and he can play all infield positions. That was pretty much what the Yankees needed.
"Obviously you're hoping he can do the job," Torre said. "In the spring, he just seemed to be very comfortable — not overwhelmed. Whether he hit very well or because he's been around so long, he handled it very well. New York is unlike any other place when you have to do something like that."
In 1999-2000, Basak hit for tasty averages (.393 and .329) while playing shortstop for the Illini.
No tags for this post.