Posted on
April 22nd, 2006
by The Baseball Zealot
So far after two games, it looks as if Illinois was ready for Iowa. 
The burning question on all fans minds:  Was ace reliever Matt Whitmore up to the task after making the switch to starter last night?  It sure looks like it. 
Whitmore  6 1/3 IP, 3 H, 3 R, 3 ER, 4 BB, 6 K
Ok, from the looks of the linescore, his control was a bit off and it's for certain that his 1.33 ERA will go up.  But he allowed only 3 hits and more importantly, got the job done.  He had plenty of room too, with the Illini offense scoring 12 runs.  Final score 12-3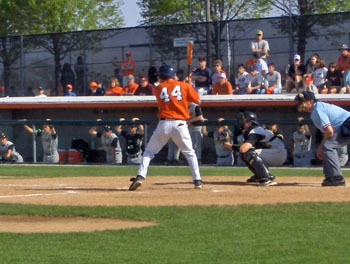 Shortstop Shawn Roof up to bat
I went to the first game today.  I got there at the bottom half of the first and the Illini had already spotted Iowa a one-run lead.  The Illini picked away at the lead scoring a run in the 2nd, 3rd, 5th and 6th innings.  Shawn Roof went 2 for 2 with an rbi and Joe Bonadonna went 1 for 3 with a run and rbi each.  By this time, things were falling apart for Iowa.  So much so, the Iowa coach got thrown out of the game in the 6th for arguing with the men in blue over relatively unimportant call at first base.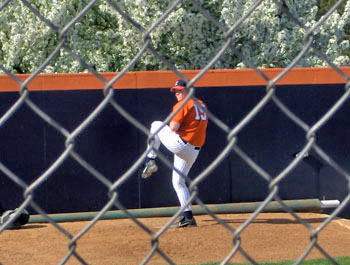 Jake Toohey warming up in the pen
It wasn't quite over yet though.  Iowa managed to load the bases in the 7th.  The new pitcher Toohey walked in a run and another scored on a sac fly bringing the score to 4-3.  Toohey settled down and got the last two outs for another win for the Illini.  Final score:  4-3
Update:  Looks like the Illini have taken the second game of today's double-header 10-2.   One more game against Iowa tomorrow at 1pm.
Sunday update:  Well, it looks like Iowa took its 0-3 frustrations out on Illinois on Sunday afternoon.  The final score was 17-3.  Yikes, two touchdowns and a field goal.  The box score isn't pretty to look at.  Jake Stewart and Brian Blomquist got rocked pretty hard. 
No tags for this post.