Posted on
June 8th, 2007
by The Baseball Zealot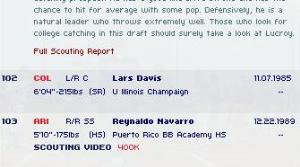 This shouldn't be a big surprise. University of Illinois catcher Lars Davis went in the 3rd round (102nd overall) of the First-Year Player draft yesterday. The lucky team is the Colorado Rockies.
I've probably said it before but I've never seen a college player exude professionalism the way Davis does. When he is playing, he simply establishes a presence on the field. If you've seen him play, you know what I mean. I hated for the Illini to lose him but if anyone is ready for pro ball, Lars Davis is.
Lars found out about his pick after practice up in Duluth, Minnesota where he with the Duluth Huskies. Fightingillini.com interviewed Davis and got his reaction to being drafted.
Similarities
Take a look a the similarities between former Illini Chris Robinson and Davis. Both were good hitting catchers in the Illinois baseball program. Both are Canadian-born. They were both chosen in the 3rd round. Robinson is now playing for the Tennessee Smokies, the Chicago Cubs' AA team.
What next?
According to the rules, the Rockies have one year to to sign Davis to a pro contract. I'm sure it won't take that long given Davis seems very excited about his prospects. Good luck to Lars!
No tags for this post.