Posted on
May 22nd, 2008
by The Baseball Zealot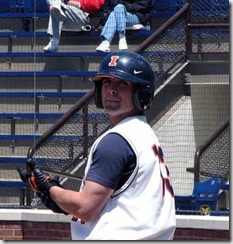 Joe Bonadonna made his one hit count Wednesday
A quick post before I head out for the second day of the Big Ten Tournament.
What's on for today?
First up at 12:05 is Loser's round game where we find out who gets to go on in the tournament and who gets to get on the bus.  #5 seed Ohio State faces #6 seed Indiana.
At 3:35, Penn State who defeated Indiana yesterday afternoon, will take on #2 seed Purdue.  Purdue is a tough team who have a formidable offense as Illinois found out last weekend.
Finally, at 7:05, host Michigan will take on Illinois who are fresh off their first round win.
A busy day for the Big Ten tournament for sure.
Which announcer will we get?
I'm not a picky guy but I have to say the PA announcer for the Illinois-Ohio State left something to be desired.  Between announcing the wrong defense at the beginning of the game and announcing players out of order it got a little nuts.
But when he referred to our team as the 'Fighting Irish', that was it.  I think the crowd cheered a little extra louder when it was time for the stadium's "Junior Announcer" promo when a lucky 10-year-old announced the players.  He got the players right.
It didn't go unnoticed when Penn State-Indiana played, they got a new announcer.
Congrats and Encouragement from an Alum
I just got an email from former Illinois SS Shawn Roof this morning.  Roof is currently playing for the Lakeland Flying Tigers in the Gulf Coast League.  He's enjoying the updates and photos.  He passes on congrats and greetings to everyone.
Apparently his roommate at Lakeland is a Michigan grad so there's some trash talking going on between the two.
All for now, I stepped outside and though it is a bit overcast, it did stop raining and forecast for the day looks good.
Go Illini!