Posted on
May 11th, 2006
by The Baseball Zealot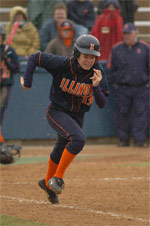 Molly Lawhead
The '06 UI Softball team has had a rough time of it this year.  Their mark of 8-11 conference and 24-30 overall was probably not what they were looking for this year.  They were quite streaky, losing three or four in a row a few times during the season. 
But starting this afternoon, they have a chance to redeem themselves.  They have earned the last seed in the Big Ten tournament.  Play will begin when they take on the Northwestern Wildcats today at 4:30pm in Evanston. 
But Jenna Hall and Co. will have their work cut out for them.  The Wildcats are the No. 1 seed.  Add to that the fact that they will be playing on their home turf.  No double-elimination like the baseball tourney so it's do-or-die.
Here is the Big Ten Tournament page.
Good luck, women!
No tags for this post.