Posted on
June 12th, 2006
by The Baseball Zealot
The kids and I went to Chicago last weekend and Teddy Ballgame played host and showed us a good time at a Sox game on Saturday.
In past postings, Teddy has said that he is always right next to Nancy Faust, the Sox organist. In the context of a huge ballpark, I've always took "next to" to mean maybe down a flight of stairs and over a bit.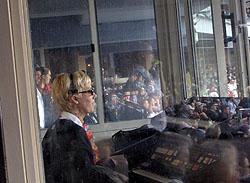 No, Teddy stands RIGHT NEXT TO Nancy's booth. If I wanted to, I could have knocked on the glass partition dividing us. She was nice enough to wave to my kids. My son, who is interested in how things work, would always look into her booth when he heard the organ music to watch her play.
Teddy treated us all to some fresh corn when we all got to the park. He obviously knows the best, most delicious treat in the park. Yum.
This was my second time at the Cell but really the first time I explored the park. The kids and I took the time for a very enjoyable walk around the perimeter.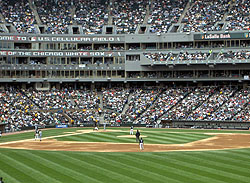 Oh yes, the game. It was a classic duel between C.C. Sabathia and Mark Buerhle. Both pitchers pretty much lived up to their billing. CC gave up a run in six and Buerhle two in eight.
In the end, it was the Tribe bullpen (particularly Big Bob Wickman) that let them down.
It was indeed a treat to spend the afternoon watching a ballgame with Teddy Ballgame. The best part of it was Teddy trying to teach my daughter the words to Go Go White Sox and her just loving it.
I always thought she was the rebel in the family.