Posted on
June 20th, 2008
by The Baseball Zealot
Way to go Cubs!
Midway through the Cubs-Sox game today, A.J. Pierzynski had his mug on the on the front of mlb.com's website. This was due to his fifth homer of the season which put the Sox ahead 3-1 in the third inning. Meanwhile, Aramis Ramirez was just getting warmed up.
Aram followed up a Derrick Lee solo shot with one of his own to tie the game in the seventh. Two innings later, hit a walk-off homer against Scott Linebrink to win it all 4-3.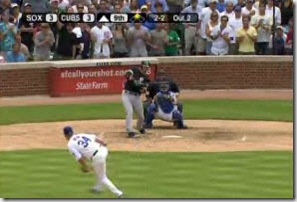 A.J. KOed by Wood!
A.J did have a chance with a runner in scoring position in the top of the ninth. But AJ Pie got called on a swinging strike going just a little too far. AJ wasn't none too happy about that, throwing his helmet to the ground and neither was Sox manager Ozzie Guillen who threw up a dismissive hand.
A tough no-decision by John Danks who allowed just one run in six frames for the Sox. On the other hand, the bullpen (this time Howry and Wood, who got the win) came through for the Cubs something they haven't done in a few games.
Let's get them tomorrow!!