Posted on
August 27th, 2005
by Teddy Ballgame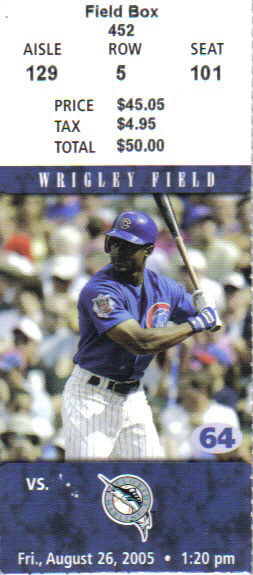 I'm reading the newspaper (actually the Sports section, the only section worth reading) and I notice it's a BIG sports day in Chicago. The Chicago Bears are playing a preseason game against the Buffalo Bills at Soldier Field, the White Sox & El Duque are matched up against the Mariners 19-year-old phenom Felix Hernandez in Seattle, and the Chicago Cubs are playing the Fish from Florida at Wrigley Field. Upon closer inspection I see that hot shot lefty Jason Vargas will be on the hill for the Marlins. I don't have a ticket for this sold out contest, but that has never stopped me in the past. I call a ticket broker just north of the ballpark, he assures me he has something for me, and I'm on my way. I must have been excited to see this 22-year-old lefty cuz I paid $100 for a $50 ticket. I had a choice of 4th row behind the Cubs dugout for $125 or 15th row on the Marlins side for $100. I chose the $100 ticket so I could get a closer look at Vargas.
It was a beautiful day, the sun was shining, the humidity was down, and the wind was blowing in off the lake. The Marlins were taking batting practice. Nothing like it as Bleacher Bums (a richer version from days gone by, as it now costs $25 to sit out there) scrambled for baseballs that would be thrown back if hit by Florida batters during the game. A J Burnett came over to say hello to some friends and was besieged by autograph hounds. Burnett signed about thirty autographs for mostly youngsters before joining his team. I was fortunate enough to wander down the rightfield line to where the visitors pitchers warm up before entering the game. As luck would have it Jason Vargas started throwing a little long toss with a bullpen catcher right in front of me. A little fan shouted for Josh Beckett to toss him a baseball and Josh obliged. When the batting cage came down it was time for me to head to my seat. Lee Smith, the alltime saves leader, threw out the first pitch. Later he would lead the faithful in "Take Me Out to the Ballgame". Why isn't Big Lee in the Baseball Hall of Fame?
Before Jason Vargas could take the mound he was staked to a 2-0 lead, and before long it was 7-0. Vargas was a position player in college and picked up two hits and a drive to the warning track in his three plate appearances. But what I really came to see was this kid pitch. Jason was cruising, not allowing a run through the first five frames, before getting knocked out of the contest when the Cubbies made it interesting scoring five times in the sixth. Maybe Vargas was tired or maybe the Cubs hitters finally figured him out. Either way this young southpaw keeps hitters off balance with a breaking pitch that's about ten miles per hour slower than his 89 mile an hour fastball. The Marlins hung on to beat the Cubs 7-5 and give Jason his 5th win in six decisions. After the ballgame I walked six blocks to one of my favorite restaurants the Chicago Diner. The Chicago Diner is completely vegan unless you ask for cheese. Being a vegan-in-training myself, it was nice being able to enjoy my meal without being concerned with what was in my food. A nice dip in my pool was in order after gorging myself on vegan lasagna.
The Chicago Bears preseason game had gone long enough to once again illustrate that Chad Hutchinson is not the answer to the starting QB question. Hutchinson pitched for the St. Louis Cardinals not too long ago, maybe he should try hockey. Rookie Kyle Orton threw a TD pass and Jeff Blake engineered a game winning drive at the end of the game to make it a good day so far.
Next up was the Chicago White Sox going up against Felix Hernandez. Felix was dominating the Sox hitters (not that difficult to do now a days) and it looked like Yorvit Torrealba's solo blast might just be enough for a 2-1 Mariner winner. But I've seen the Seattle Mariners enough this year to know they have a knack for losing, especially seeing I placed a C-note on them before the season thinking they'd win more than they lost. What was I thinking? But thunder came from an unexpected source as rookie Sox outfielder Brian Anderson gave the White Sox a 3-2 lead sending a hanging breaking ball over the leftfield fence with a runner aboard. Anderson also accounted for the White Sox only tally with his first career homer off a 96 MPH heater that went far into the Seattle night. Willie Bloomquist tripled with two outs in the 8th to plate Torrealba and tie the game at three. Bloomquist squeezed in the Mariners first run of the game. This pitching duel was destined for extra innings. Tadahito Iguchi blasted a two run shot off Everyday Eddie Guardado in the 12th to give the White Sox the win. It was their 17th win in their last at bat this season. Iguchi redeemed himself with the homer to left after failing to bring in the go-ahead-run in the 10th with one out and Anderson on 3rd when Julio Mateo struck out Tadahito. Final score Good Guys 5 – Mariners 3. All I have to say is, it was a good day all around. GO SOX GO!!!