Posted on
March 27th, 2007
by Teddy Ballgame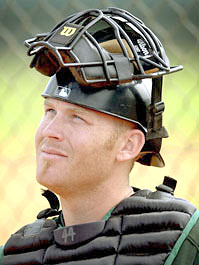 Toby Hall
Just when the company line was, "the record doesn't matter as long as we break camp healthy", when it happened. I cringed when I saw it from the comfort of my bedroom TV. I don't know why, but Toby Hall was playing firstbase for the Sox, a ball was hit to his right, he dove, and I saw his shoulder extend in an un-natural way. It reminded me of the injury that the Big Hurt suffered a few years back. I knew it was bad. Now it looks like Hall will miss all of 2007 with a torn labrum.
From my very same bedroom TV I was watching Kerry Wood when he allowed three runs in an inning to the LA Angels of Anaheim, including a homer by Kendry Morales on a high inside fastball that the Cuban jerked over the RF wall. After the game it was revealed that the oft injured Cub righthander would be back on the shelf again with a bum shoulder.
So today I called the White Sox and left a message for the White Sox GM Kenny Williams saying he should check out the northside of town to resolve his backup catcher dilemma. When I was in Arizona I couldn't help but notice the Cubs depth at catcher. I suggested the Southsiders deal an arm (Gavin Floyd) for a backup catcher (Geovany Soto). I wouldn't mind Jake Fox, but he may be a year or two away from the big leagues. IMHO, Williams has to do something, Gustavo Molina & Wiki Gonzalez are not an option, and without a quality backup catcher the Pale Hose are seven games worse than they'd have been with Toby Hall.