Posted on
April 15th, 2008
by Teddy Ballgame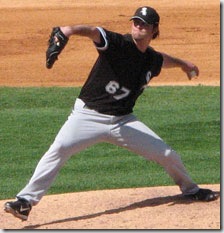 Today, April 15th, was John Danks' 23rd birthday, even with my birthday transposed, I'm older than he is. Danks was starting for the White Sox today versus the A's.
But that wasn't what I was thinking about as I got dressed for a big day of baseball. It was Jackie Robinson Day at all MLB Ballparks across America. Minnie Minoso was receiving a lifetime achievement award from the Negro League Hall of Fame. The Negro League Hall of Fame was Buck O'Neil's place in KC. It's a travesty and a shame that Buck passed without getting into the Baseball Hall of Fame in Cooperstown. Maybe his stats weren't the greatest, but Buck was! O'Neil built the Negro League Hall of Fame and kept the Negro Leagues' memory alive. He was also the first black coach in the majors, with the Cubs. Minnie Minoso also needs to get into the Hall before he passes, he looks great, but he's not getting any younger, none of us are.
Joining me behind home plate today was Tade (Buehrle's game the day before was the first game he missed all year) & Steve (another huge Sox fan, who comes as often as he can). Dick & Bea were also there, Dick told a Bubba story that had Tade & I laughing so hard, we were crying. Visited with Mike & his brother over at the caramel corn stand. Seeing it was a day game I stopped in to see Nancy Faust. Nancy looks as good as ever, a blonde, as cute as could be, and friendly! I sympathized with Nancy at the passing of her mother, who would have been 94 this year, she had cancer, and died shortly after her son-in-law, Nancy's brother-in-law, died of pancreatic cancer. Why do bad things happen to good people?
Well John Danks celebrated his birthday by firing goose eggs at the A's. The White Sox really flashed the leather behind JD Jr. Alexi Ramirez cutoff a sure double into right center, whirled, and fired to second to easily gun down a shocked Emil Brown. Brown saluted Ramirez as he headed back to the dugout. Joe Crede made a diving stop toward the line, got to his feet, and threw one into the dirt, that was scooped by Nick Swisher. Then there were a couple of dandies turned in by Orlando Cabrera, our new SS, I think I'm gonna like this guy. Carlos Quentin launched a three run bomb into the leftfield stands. The score was 4-0 when Ozzie Guillen lifted Danks in favor of Scott Linebrink with two out, a runner on 1st, and John at 95 pitches thrown. Linebrink allowed the first two runners to reach in the 9th, was replaced by Bobby Jenks, who allowed a sac fly, and a doubleplay closed it out.
I was off to the Red Line to catch the 2nd game of my doubleheader at Wrigley. Judy had a bleacher ticket waiting for me at the courtesy dropoff window.