Posted on
April 26th, 2008
by Teddy Ballgame
Rain was in the air as I boarded the Red Line early in an effort to stay dry. There was a forecast of rain about 8:00 PM for about 45 minutes, an hour window of dryness, then a little more rain, before total clearness. I could still hear Mom's words ringing in my ears, "Why do you wanna go sit in the rain? The game's on TV". But Mark Buehrle was on the mound and he's my man. Haven't liked a White Sox lefty this much since Tommy John.
Seeing I was inside the ballpark an hour and a half before game time I decided to take advantage of my free time by visiting some friends at the Cell. My first stop was to see the woman who sells veggie hot dogs down the rightfield line. It was great seeing her smiling face, she's always so happy, she's going to visit her parents in Mexico on Tuesday for a couple weeks, and her youngest daughter turns 21 & graduates from college in May. Then I stopped by the Elotes stand, got some corn with lime & chilis, and washed it down with a Miller Chill. While munching on the golden kernels I talked with cameraman Dave Cialla, asked if Blackhawk defenseman James Wisnewski was gonna take his job, we had a good laugh. Then I caught up with Tammy, the Kosher Hot Dog lady in right, she's a cutie & a good kid, even though she's a Cub fan, thought there might be something there, but turns out she's married, oh well.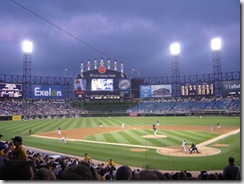 Got to my place 34 rows behind home plate in time to see Buehrle retire the O's on five pitches in the first. Baltimore's pitcher faced only one batter before the skies opened up. Met Tade's mom and his stepdad, they looked really young, and then I realized I'm one year older than Tade's mom. They are really nice people, but what would you expect, because Tade's so nice.
For the first time ever Nancy Faust came to a game as a fan. She had to stop by her booth, even though her seats were down the leftfield line. It was great seeing Nancy, when she had more time to visit. Nancy is always smiling! People always look better and younger with smiles on their faces. Nancy told me they were able to sell her mother's house and her sister also sold her place, tough to do in this economy.
When it was still raining and the game was still in a delay at 9:30 PM, I got some inside information the game would be called if it was still raining at ten. I decided it was time to figure a way to get home. Guest Relations told me the Red Line wasn't running between Grand & 35th. This was because a semi hit the escalator at the Chinatown stop (one stop north of Sox/35th). It was a terrible accident, two were confirmed dead, 21 injured, many critical. My brother even called from Wisconsin to find out if I was alive, but as I'd arrived early at the Park, I didn't even know about the accident until I was at the Cell during the rain delay. Found out the L was running north, just not stopping at Chinatown, got home very wet about 10:30.
Before I left for home I wished Tade an early happy birthday (4/26). Even though I wanted to get back out there for a day/night doubleheader Saturday, decided to sit this one (or in this case, two) out. My intention was to see all seven home games, but the best laid of mice & men… I won't be back out there until sometime after Memorial Day, looking for some better weather. I am officially a wimp!