Posted on
January 24th, 2008
by The Baseball Zealot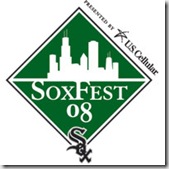 One weekend after the Cubs Convention (did I mention I went to the Cubs Convention this year??) is Soxfest 2008. The annual get together for Pale Hose fans will take place at the Palmer House Hilton on January 25-27. Yes, the tickets are sold out.
Is GM Kenny Williams looking forward to the traditional Q&A by the fans? Apparently not.
The mlb.com website has some helpful hints for those attending. Here is a list of those White Sox current and former players and personnel who will be attending this years Soxfest:
Ozzie Guillen, Ken Williams, Harold Baines, Jeff Cox, Kevin Hickey, Juan Nieves, Mark Salas, Greg Walker, Mark Buehrle, John Danks, Jermaine Dye, Josh Fields, Gavin Floyd, Bobby Jenks, Paul Konerko, Scott Linebrink, Jerry Owens, A.J. Pierzynski, Carlos Quentin, Nick Swisher, Jim Thome, Javier Vazquez, Roland Hemond, Joel Horlen, Bart Johnson, Ron Kittle, Bill Melton, Minnie Minoso, Moose Skowron, Mike Squires, Hawk Harrelson, Darrin Jackson, Ed Farmer and Chris Singleton.
I of course, will NOT be attending. I would, however, like to hear from anyone attending. Photos would be great!
And if you go, have fun!!