Posted on
October 19th, 2005
by Teddy Ballgame

These words were etched in my brain from the time I was three years old, some 46 years ago. The 1959 Chicago White Sox winning the pennant was like an ancient history lesson. They were the Go Go White Sox led by Luis Aparicio, Nellie Fox, Sherm Lollar, Jungle Jim Rivera, and headed by Senor Al Lopez. For the first time in my life I bet $10 before the season started the White Sox would win the pennant, but it's much more than the $150 I won that makes me so happy. First off I'm happy for Ozzie Guillen and GM Kenny Williams. When the managerial position opened up I called the Sox to say, "Hire Ozzie!" The previous manager was like a bump on a log and Ozzie is so energetic! I believe that's why this ballclub is so energetic. It's a reflection of the manager. While other GMs were going out inking big name players to big contracts Kenny Williams working within a budget spent his boss' money wisely. Williams decided to let fan favorite Magglio Ordonez and Jose Valentin go, traded Carlos Lee, and then Frank Thomas was injured much of the year. But it was much more about who was brought in rather than who was missing. Tadahito Iguchi was brought over from Japan to play secondbase, which allowed Juan Uribe to move over to his natural position of SS. Scott Podsednik was acquired from the Brewers along with reliever Luis Vizcaino for Carlos Lee. Jermaine Dye was inked to replace Magglio Ordonez in RF. A.J. Pierzynski was picked up to be the regular behind the plate, despite the reputation of being a trouble maker. Another "trouble maker" Carl Everett was on hand as an extra outfielder and a backup DH in the event Frank Thomas should go down. Dustin Hermanson took over from Shingo Takatsu as the closer, and then he gave way to 100 MPH flame thrower Bobby Jenks as the bullpen ace. Jose Contreras & Orlando "El Duque" Hernandez, a couple of Cuban defectors, were brought in to round out the rotation. The naysayers were out in force saying this team didn't have enough power to compete in today's game. But then the White Sox jumped out to a big lead and "hung on" with the best record in the American League. The team was playing "Ozzie Ball", "Smart Ball", or "Little Ball" according to the scribes. But the White Sox also had power, hitting over 200 home runs, to go along with pitching, speed, & defense. Some said Ozzie was crazy, but I say, "He's crazy like a fox!"
How lucky was I to be able to be at all the White Sox home playoff games plus the road games in Anaheim? More than that, attending the games with me in Chicago were some of my best friends, which made it all the sweeter. I went to Anaheim by myself, who could ask for better company than that?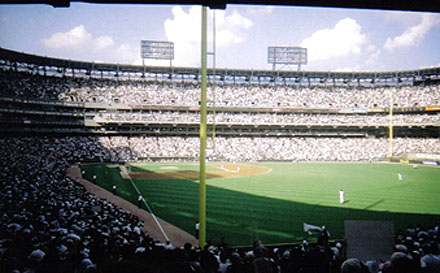 We were part of a sellout crowd of 40,717 fans at game #1 on October 4th versus the Boston Red Sox. These were the defending champion Boston Red Sox. Yet there was a sense the White Sox belonged. In fact a fan walking past me as I was going to my seats mentioned a final score of 10-0. Maybe it was the fact that a former Cub hurler Matt Clement was starting for the Bosox that got us all cocky. The White Sox gave starter Jose Contreras all the backing he would need, launching five home runs, on their way to a 14-2 rout. Somebody stated the obvious, if only the Bears offense could score this many points. A.J. Pierzynski hit two homers, Paul Konerko & Juan Uribe hit one each, and Scott Podsednik hit his 1st home run of the season.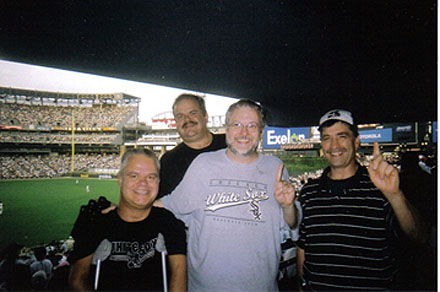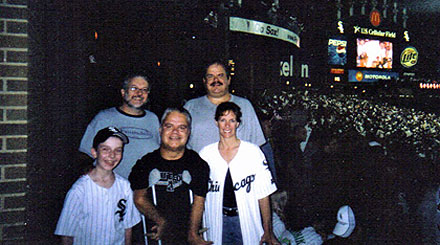 The next day was a whole different ballgame as Mark Buehrle allowed Boston to get out to a 4-0 lead after three innings with David Wells dealing for the Red Sox. But then came the 5th inning, Carl Everett led off with a single, was doubled home by Aaron Rowand, A.J. Pierzynski grounded Rowand to 3rd, Aaron scored on a Joe Crede single. Juan Uribe hit a doubleplay grounder to Boston keystone man Tony Graffanino, but Tony allowed the ball to go between the wickets putting runners at 1st & 3rd. It looked like Boomer Wells would pitch around the miscue when he got Podsednik to pop to third. But Tadahito Iguchi wouldn't let the Red Sox off so easy as a lined a three run shot over the leftfield fence. Unconventionally Ozzie Guillen rode Bobby Jenks the last two innings for the save. In today's game closers only pitch one inning.
We were due in Champaign to play some APBA right after CLuke got off work, but the allure of watching the White Sox possibly eliminate the Boston Red Sox from the playoffs at Shoeless Joe's Sports Bar was just too great. Boston tied the score at two when David Ortiz & Manny Ramirez hit back-to-back home runs off Freddy Garcia in the 4th. Then in the 6th the White Sox took a two run lead when Paul Konerko homered over the Monster in left with Jermaine Dye on 1st. Garcia was lifted in favor of Damaso Marte after Manny Ramirez hit a leadoff sixth inning shot off Garcia t cut the lead to one. The wheels came off for Marte as he surrendered a single to Trot Nixon, walked Bill Mueller, and then walked John Olerud, departing the scene with a one run lead, the bases loaded, and a one run lead. It was kind of funny because ESPN announcer Rick Sutcliffe kind of chuckled when he saw Orlando Hernandez warming up in the bullpen, saying he was a starter and was probably just getting some work in. But El Duque was brought on to get out of the jam. And get out of the jam he did! He got pinch hitter Jason Varitek to pop to Konerko, Graffanino to pop to Uribe, before getting Johnny Damon on a check swing 3-2 pitch in the dirt that Damon couldn't hold up on. Hernandez pitched two more innings before turning the game over to Bobby Jenks in the 9th. The White Sox added an insurance run before Jenks shut the Carmines down in order in the 9th. Final score 5-3 Good Guys. This was the first playoff series win since Shoeless Joe's 1917 White Sox won the World Series. And how cool was it that we watched it at Shoeless Joe's Sports Bar?!?!
Next victim the Los Angeles Angels of Anaheim. Look for the rest of the story in Part II.